Sugar Bush Squirrel's got a platform
Based on Simple Solutions
And it's all done with crayons
A bright new revolution.
But there's a trick to Simple Solutions
And the word is 'understated'...
If it can't be drawn with a crayon
Then it's WAY TOO COMPLICATED!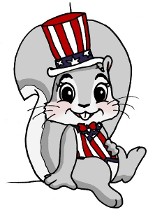 Left Wing, Right Wing, same ol' bird
It's time to step back and let the people be heard.
We need solutions there's no doubt
So let's all get our crayons out.
Solution #1, Sugar Bush's gottem
We gotta bring the middle class back up from the bottom!
We need lots of jobs for all the masses
Through heroism, hard work and no free passes.
So get out ya crayons one by one
And together we'll color a job well done.
All they want is a job and a chance
They're tired of the same ol' song and dance.
We're sending money to the Middle East
When there's oil in our own ground.
The Simple Solution is drill our own
Or Keystone "Come on down!"
And if you're worried 'bout the atmosphere
And too much air pollution,
Switch to electric, solar and wind.
That's a simple enough solution.
To keep a car thief outta your yard
To protect your Mercedes Benz,
What's the best Simple Solution…
….duh………….. BUILD A FENCE!
It's the same along our borders
A 'KEEP OUT' sign won't do.
It's gotta be some kinda barricade
Illegals can't get through.
And if Iran won't stop enrichin'
Then it's time to blow the whistle:
Take your red crayon out
And draw a guided missle.
"And don't threaten our allies!"
Sugar Bush's mood turns somber,
"I'm takin' my black crayon now
And I'm drawing a B-2 Bomber!"